Sony MST-2000 MUSE Decoder with BS Tuner
---
Photos

HDVS is a designation more commonly associated with Sony professional high-definition video products, but as the "It's a Sony" sticker suggests, this is unequivocally a consumer product.

For reasons unclear, the MUSE input and output jacks, the 5-channel analog audio output jacks, and the coaxial digital output jacks have gold-coloured shells.


The wood-grain side panels (a curious design choice, but one often encountered on higher-range Japanese consumer electronic products) are removable to accommodate narrow shelves or mounting in a 19-inch rack. They screw into the chassis, through the metal cover (which they hook into), and so must be removed in order to disassemble the unit.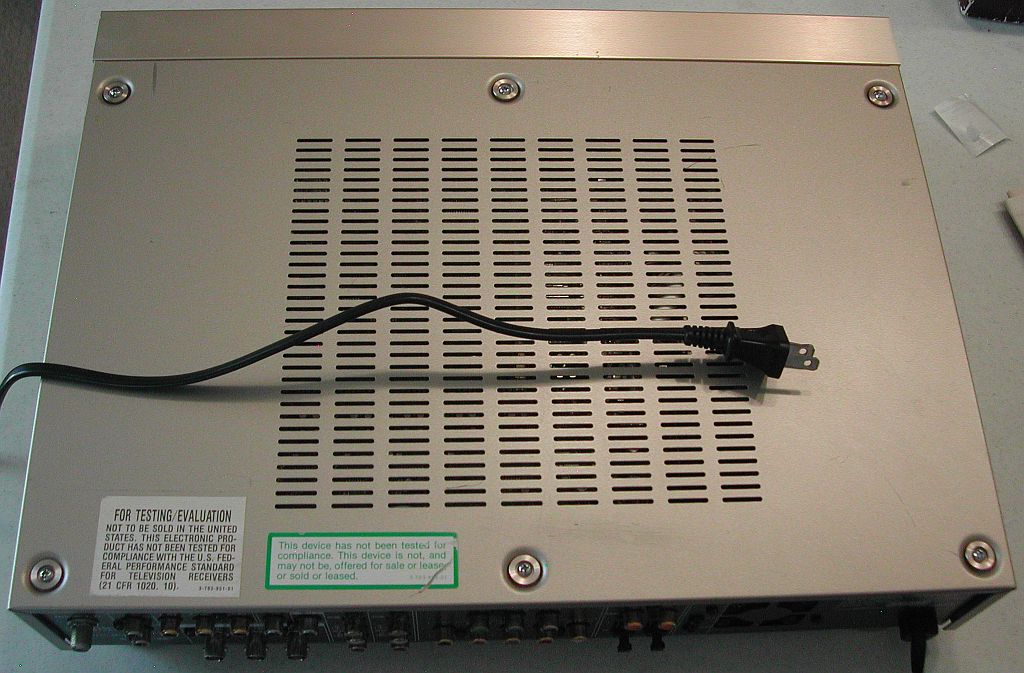 This unit was officially imported to the US for some kind of testing purpose, and is fitted with an American power cord, distinguishable by its polarized plug. The power supply is probably the standard Japanese type (installed fuses are marked "125 V"), but it seems to run happily on American house current.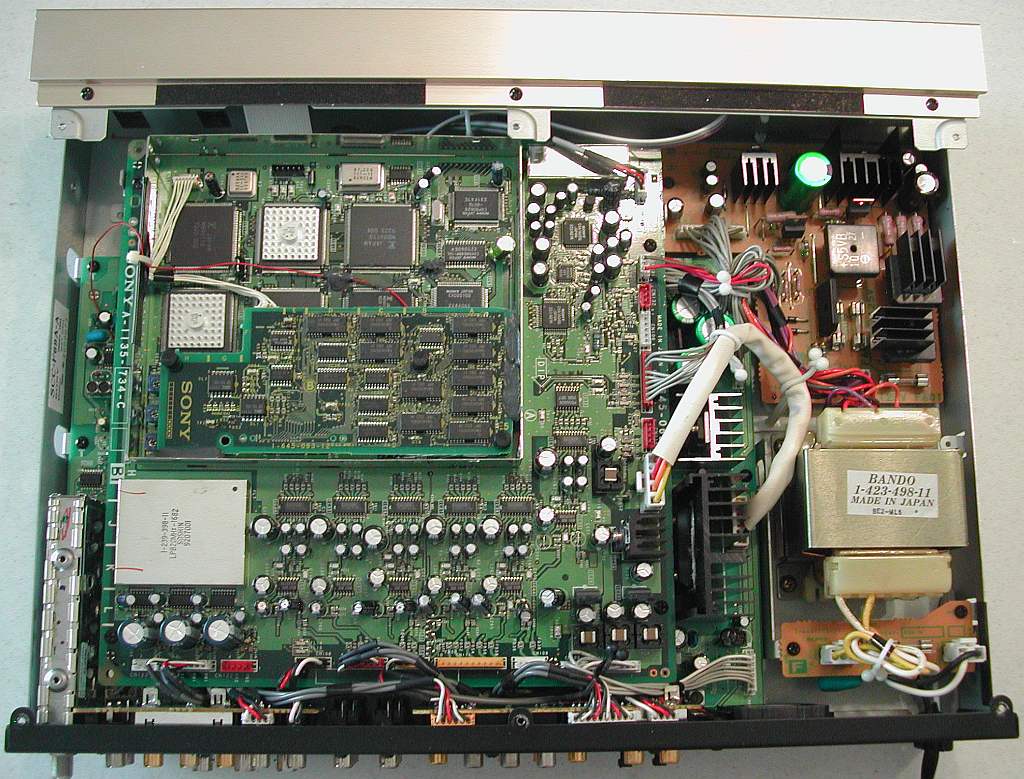 There are three crystal oscillators to be seen on the upper PCB. One is marked 44.550 MHz, the output pixel clock frequency. The second is 97.200 MHz, six times the transmission clock of 16.2 MHz. The third is 12.000 MHz, significance unknown.
There are also a number of empty headers on the upper PCB, including what appear to be additional video outputs. It would be very interesting to have schematics. Unfortunately, when I contacted Sony, they indicated they did not have a service manual for this model. There are also indicators on the front panel which are not mentioned in the user's manual, including a "ZOOM/FULL" light, which would normally apply to downconverted video.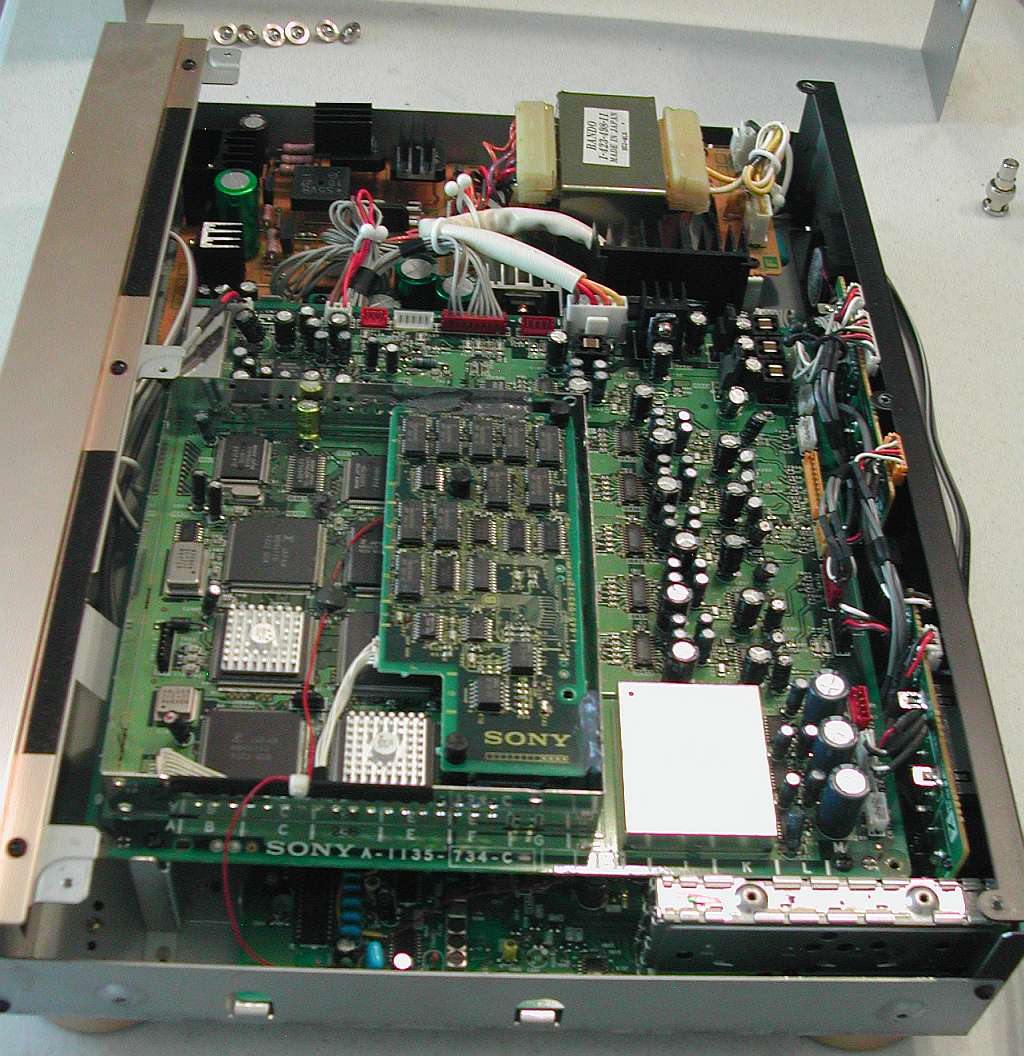 Extensive use is made of metal EMI shields. Aside from the cans around the BS tuner frontend and what may be the low-pass filter for the video DAC, and the partition around the heart of the MUSE decoding circuitry, the entire upper PCB is underlain by a metal tray.
The paper label inside the right chassis rail (top center) shows that this unit was assembled in January of 1993, and has serial number 2000073, which may indicate a design change from units numbered beginning with "1" (concerning which I have no information). Since the model was introduced in October 1992, the other option is that they didn't exactly sell like hotcakes.
---